Agile Training
Agile ways of working differ dramatically from traditional ways of working. Understanding and mastering them does not only require practice but also a mindset change.
Training is an important contributor for enabling agile practices and the formation of an agile mindset.
MyBusinessAgility offers standard and customized training to support you in your agile journey.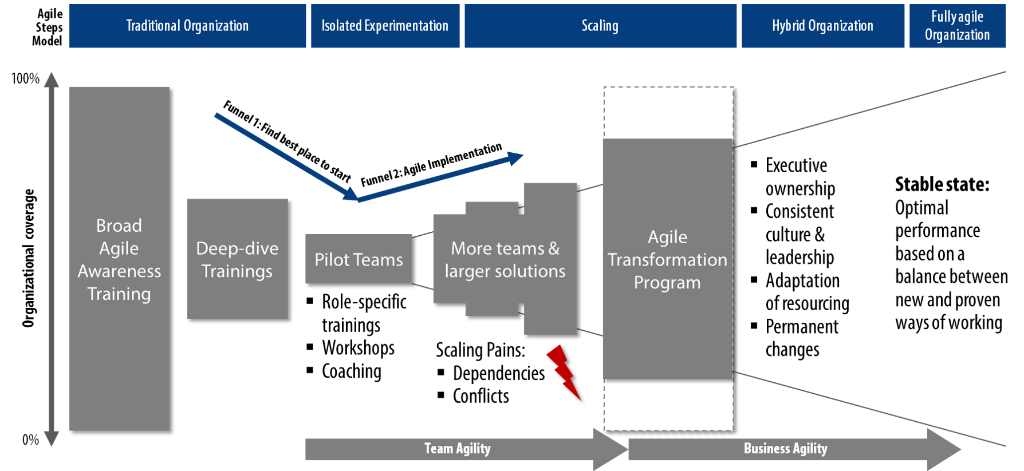 As illustrated in the agile funnel model above, trainings are used heavily at the beginning of an agile journey to create awareness about agile ways of working with a broad audience within a business.
Often, this is done without a clear mandate or pressure by management in form of teasers to create interest.
Individual and teams who show interest in proceeding are then selected to form agile pilots and received additional training, workshops and coaching to succeed.
Forward Intelligence Group offers the following standard awareness trainings for executives, managers and staff:
Business Agility Executive Briefing (2.5 hours, 8-20 people) – Download Flyer
This briefing explores the trend towards the adoption of agile ways of working, its drivers, benefits and challenges from a customer, organizational, and cultural perspective. It is designed as an introductory session to create awareness, desire, and urgency to get started with agility top-down and build executive support for starting, scaling or accelerating an agile transformation.
Agility Introduction Training (1 day, 8-15 people) – Download Flyer
This training provides a general introduction to agility. It looks at agility from different perspectives to develop an overview of the why, what and how of agility. Using a well-balanced combination of information, discussion, and hands-on exercises it explores rational and emotional aspects, benefits and consequences of agile ways of working providing the participants with insights into whether, where and how to apply it.
Agility Hands-on Workshop (1 day, 8-12 people) – Download Flyer
This workshop demystifies agile ways of working. Using two of the most popular agile frameworks Design Thinking and Scrum it takes you through a full innovation cycle of understanding, envisioning, designing and delivering a new product. Participants will practice and experience hands-on what the core elements and practices of working in agile ways are and what they mean for them.
For individuals interested in agility we provide the following deep-dive training:
Scrum Simulation (2 days, 8-12 people)
This simulation takes the participants to all details of a Scrum project from Product Backlog formation, over Estimation and Daily Sprints Meetings to Retrospective. Each step is first explained in detail covering common practices and then exercised using a common case study. We do not only cover practices but also pitfalls and challenges to equip the participants with a clear understanding about the Do's and Dont's of Scrum to become active and productive members of agile teams.
Please contact us at info@forward-intelligence.com for more information